Kawasaki Engines EU
Using social media to drive reach and engagement across Europe
Widening brand reach and engagement in a pan-European market
Background
Kawasaki Engines specialises in supplying engines to a range of markets – including turfcare, lawn and garden, industrial and agriculture – and has earned a reputation for supplying some of the highest quality and most dependable engines in the world. Having worked with Reesink and Toro for 30 years, OneAgency have extensive experience in the turfcare industry. It is this experience that led Kawasaki Engines EU to request our support with their social media strategy.
The brief
Kawasaki Engines EU wanted to support the wider corporate business objectives for the pan-European market, ultimately influencing buyer behaviour at local dealerships.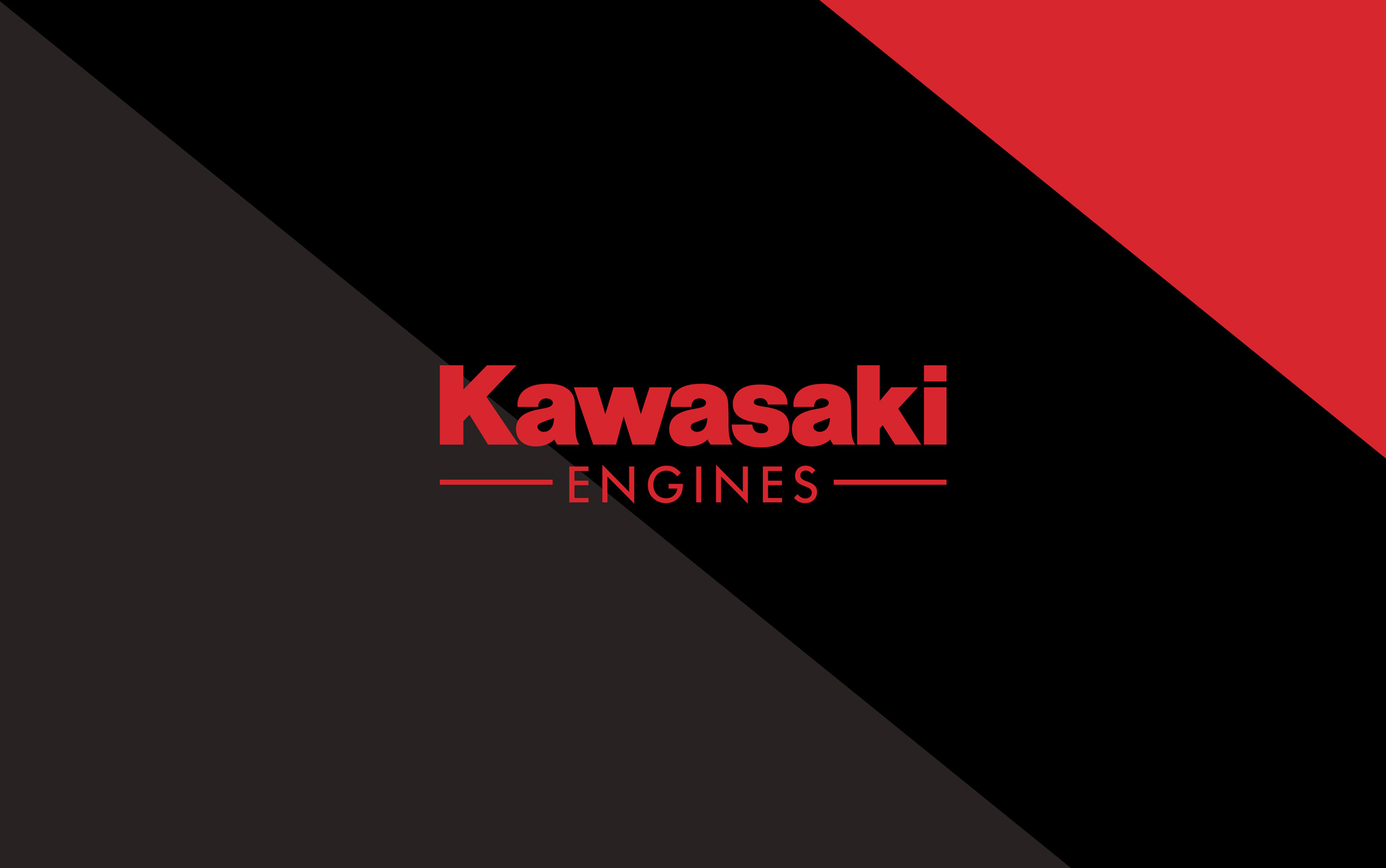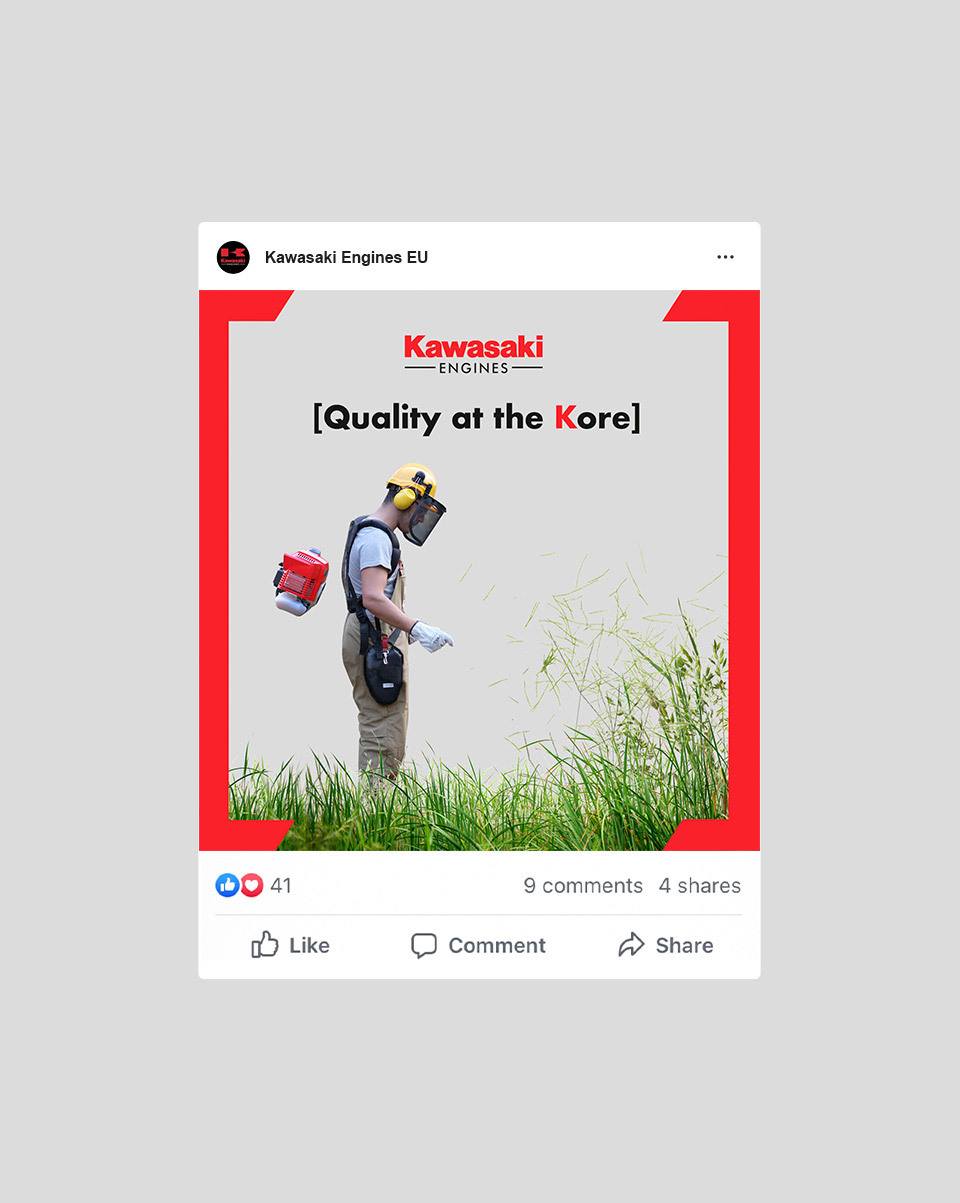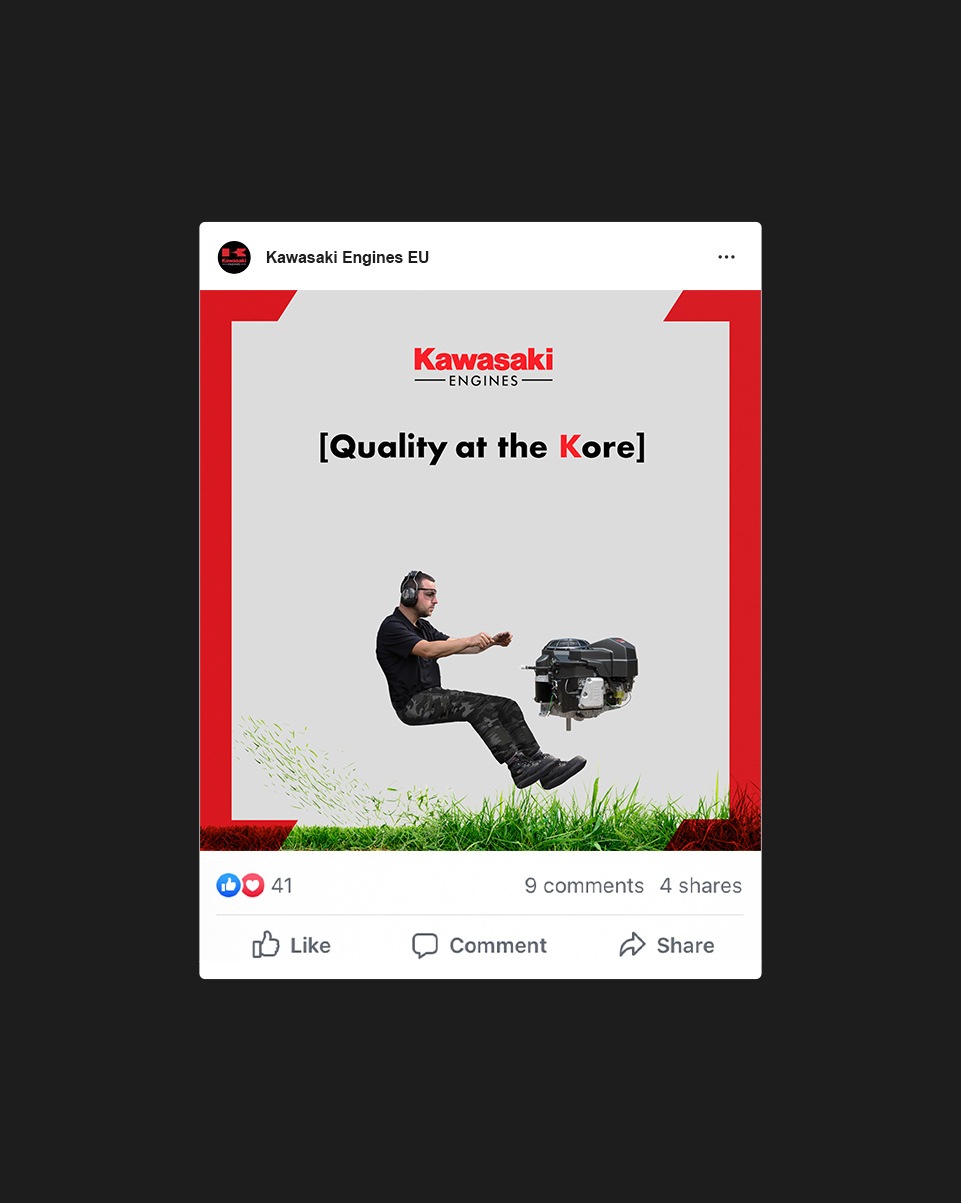 A change of strategy, a twist of brand
We started by interrogating the brief and collaborated with Kawasaki Engines' marketing team to define the company's objectives.
The result was a change of sales strategy, focusing on driving demand up the supply chain. The message? A machine powered by Kawasaki Engines won't let you down. 
We led a complete social rebrand aligned to the global perception of Kawasaki as a long-trusted, well-recognised brand, but with a human edge.
We developed a distinctive campaign that clearly emphasised key brand messages: reliability, high quality, premium, expertise. The 'Quality at the Kore' tagline communicates the value of what is at the heart of each and every machine. To make this more particular to Kawasaki Engines and to create better recall, we suggested spelling Core with a 'K'. Visuals were created to focus attention on the Kawasaki Engines product within the larger machine (manufactured by a third-party).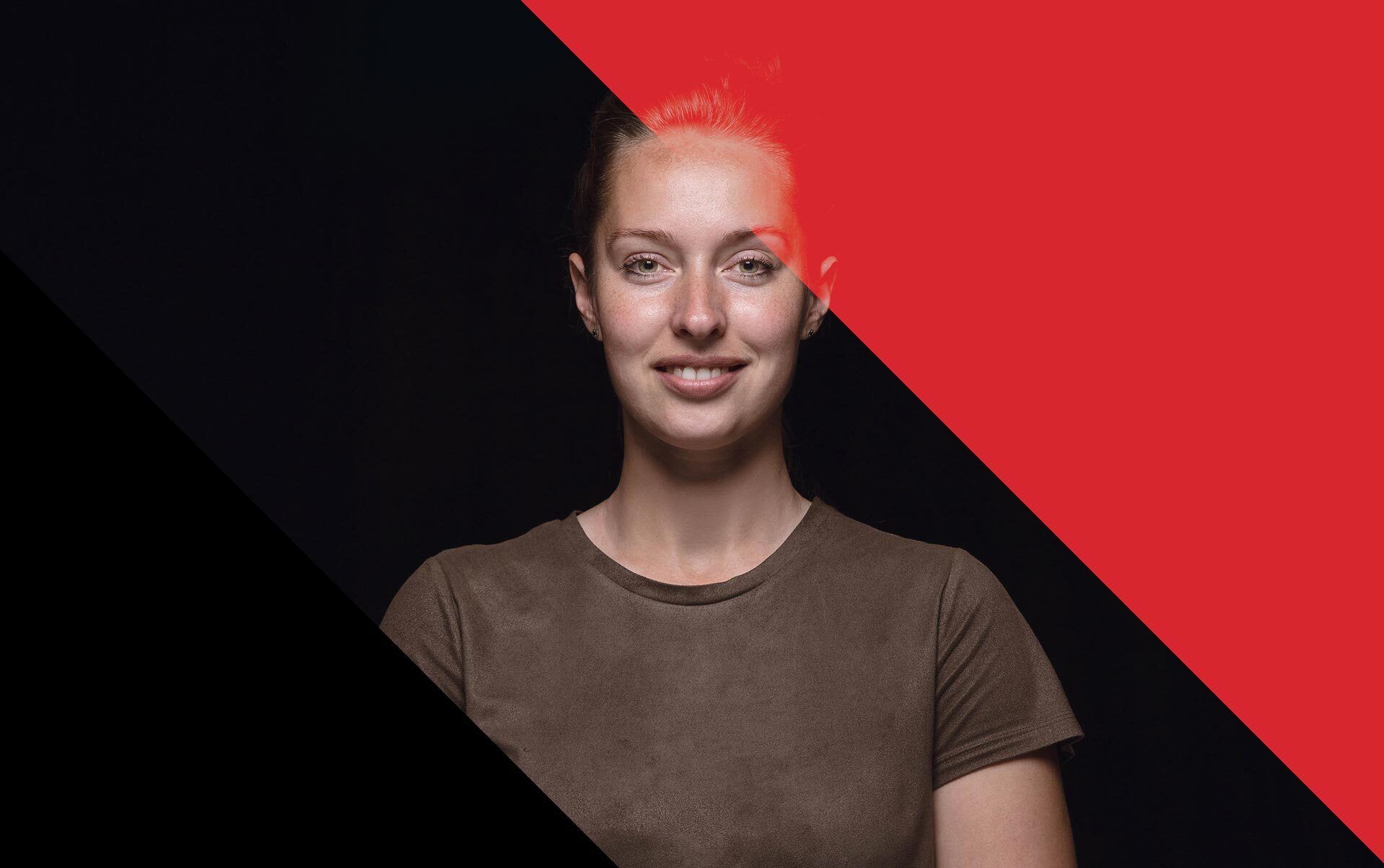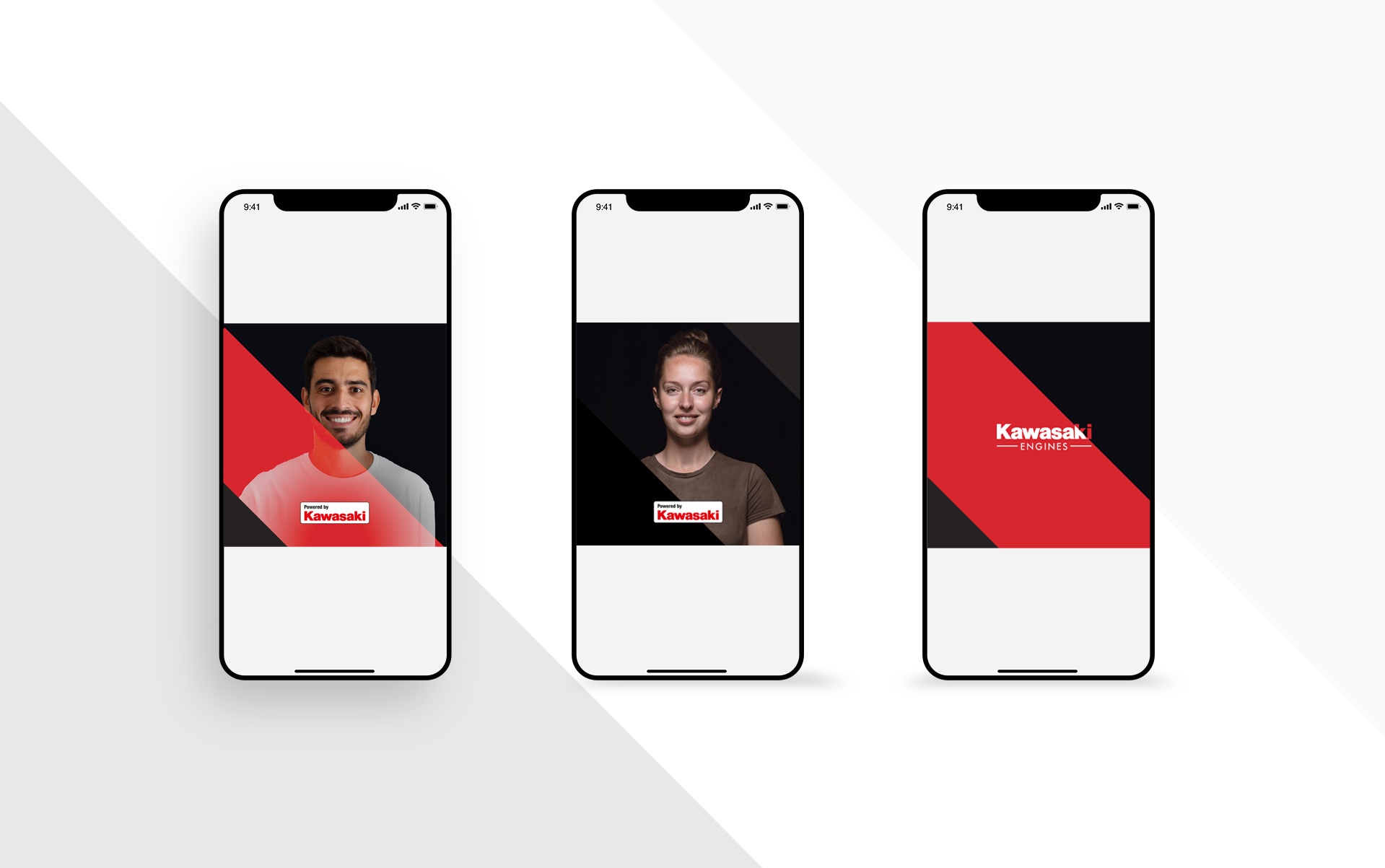 Understanding audiences is fundamental to social media strategy. As such we researched the primary audiences (end users, dealers, distributors, OEMs) finding that the greenkeeping and groundskeeping communities are highly engaged on social media, so it was clear that there was a significant opportunity for Kawasaki Engines EU to use social media to widen the brand's reach and generate positive engagement with key audiences. 
We built a comprehensive messaging matrix which included a regular stream of fresh, relevant and informative content that spoke directly to the target audiences.
Every month we create a wealth of Kawasaki content, including video and animated assets, all with strong calls-to-action to drive traffic to the website. We also deliver community management encouraging user engagement  from content creation to post sharing.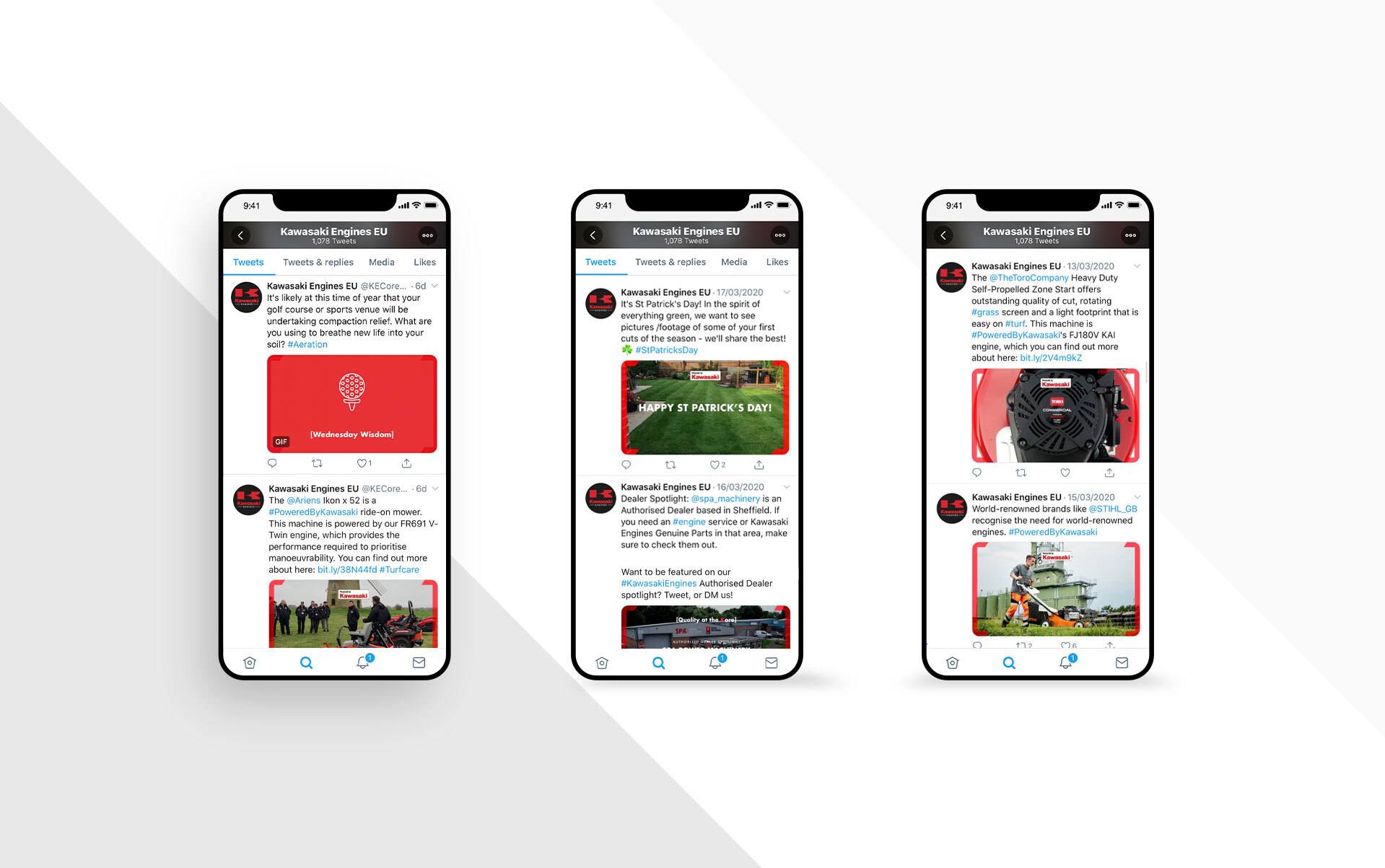 Ensuring reach, delivering results
Organic reach for brands is effectively zero. As such, brands must pay to reach audiences – especially those beyond their most loyal followers. As such boosting posts is essential.
The various social media platforms offer different opportunities to target this niche audience and we worked to build target audiences across Europe to ensure the maximum reach was achieved, thus driving engagement.
Work included continual optimisation of Kawasaki Engine EU social media ad campaigns to ensure budgets worked as hard as possible – delivering the most likes and clicks.
Working to defined KPIs including impressions/reach, engagements, audience size and quality, and website referrals from social, we have been able to demonstrate the success of all social media activity – all of which is reported upon and discussed on a monthly basis.