Liquidline
Refreshing a refreshment brand
Commercial coffee and beverage supplier Liquidline had outgrown its old brand identity: to freshen things up, OneAgency came onboard to infuse the brand with a contemporary style and meaningful messaging, reflecting Liquidline's ambitious direction.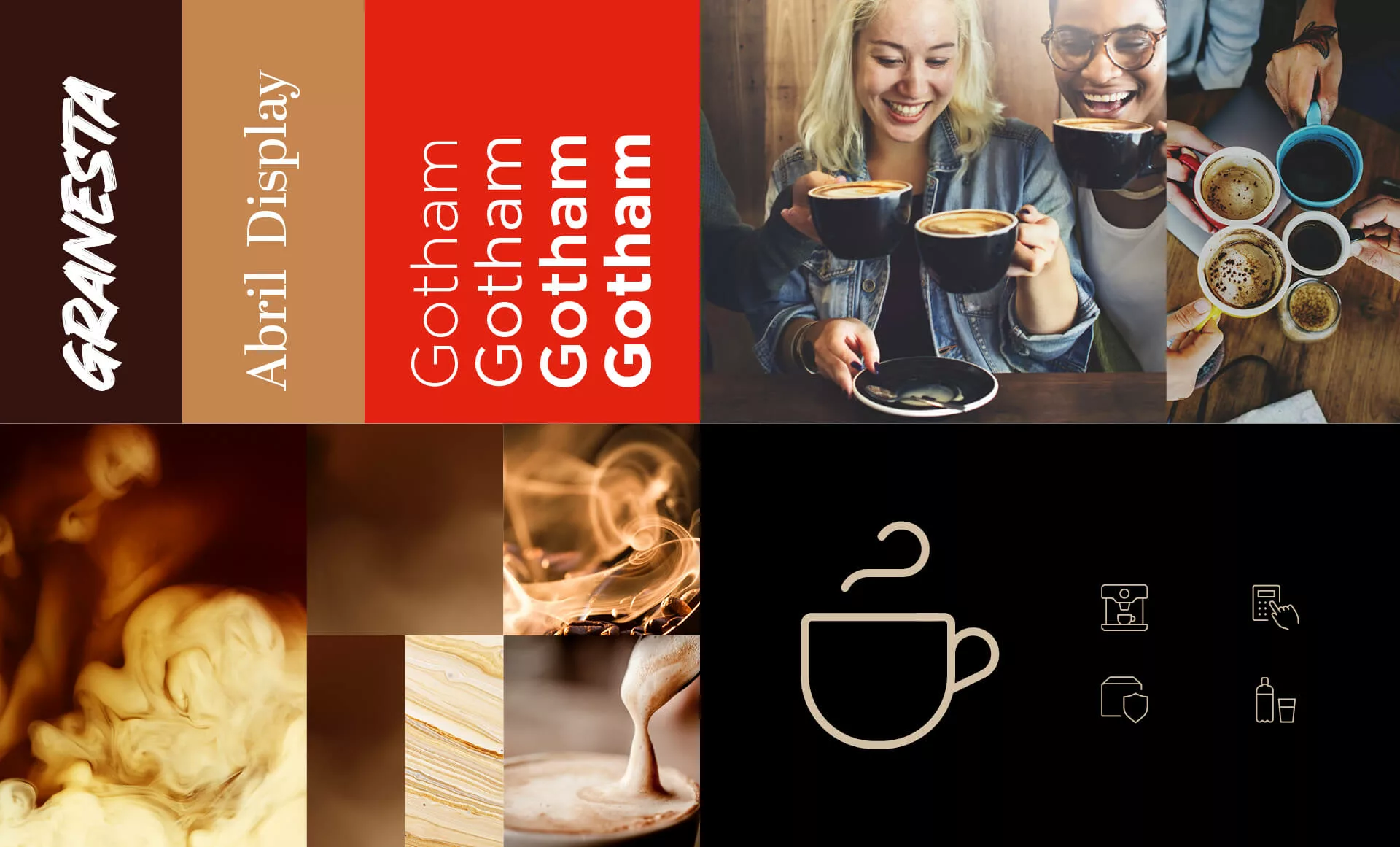 The brief
Launched in 2003, Liquidline started out supplying water coolers, but quickly became one of the UK's leading suppliers of commercial coffee, water, juice and vending solutions. In 2013, OneAgency created Liquidline's first brand book, complete with a new logo, brand positioning and visual identity guidelines to help their communications reflect the size and scope of the business.
A decade on, Liquidline has continued to flourish and evolve. With six locations across the UK and Ireland supplying over 8,000 organisations, Liquidline is poised to realise its vision of becoming the leading brand for out-of-home refreshments. To help them reach this goal, Liquidline asked OneAgency to revisit its brand positioning and refresh the brand book.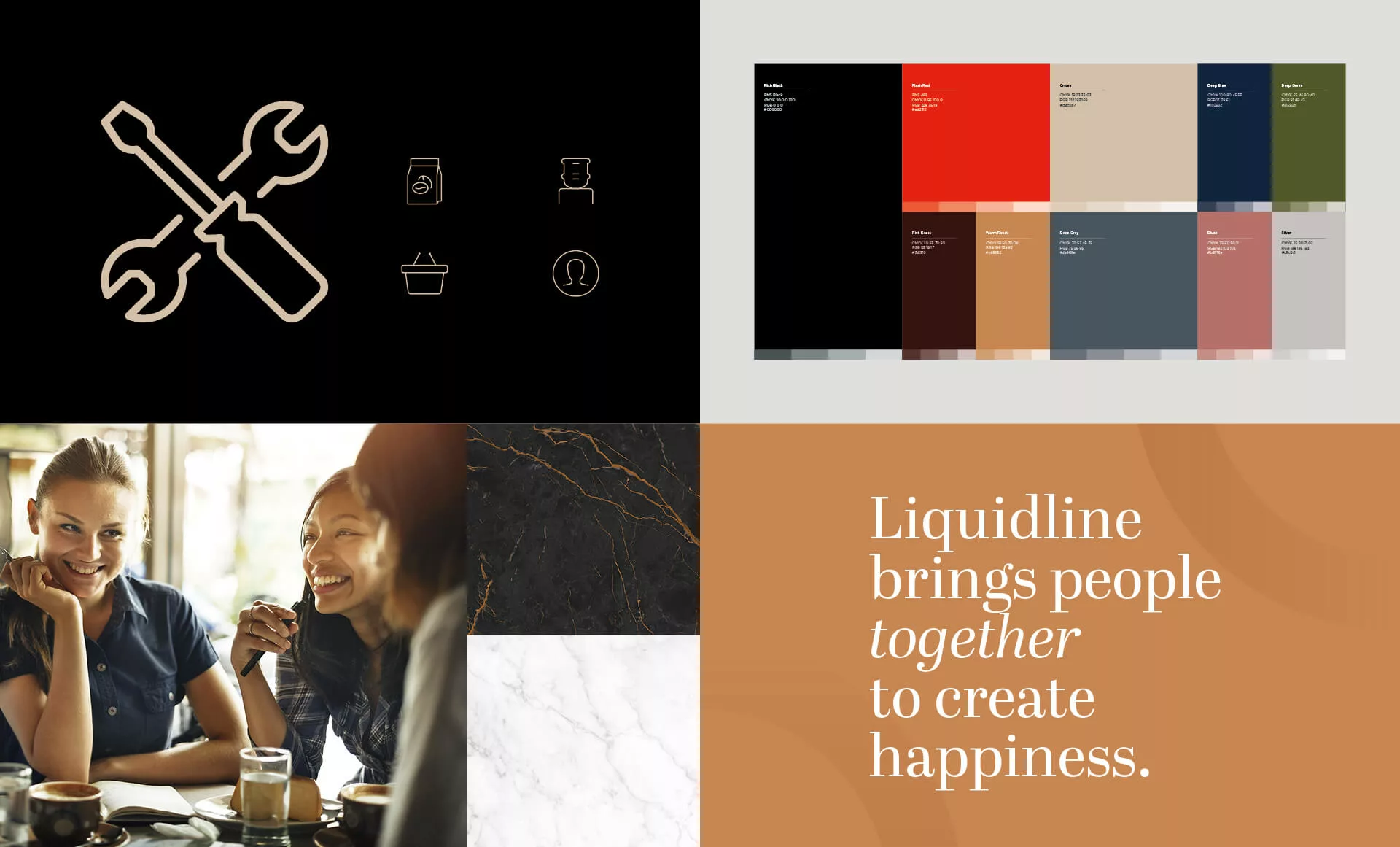 Getting to the bottom of it: brand workshop
To get a better understanding of how Liquidline sees itself and build a consensus on what it wanted to say as a business, we started with a client workshop. This included a series of exercises with stakeholders from the board and the marketing team: Post-its in one hand and Sharpies in the other, we worked through the classic SWOT analysis, 'What/How/Why' we do what we do (Simon Sinek's Golden Circle) as well as some more leftfield tasks like 'Dark-side thought starters' including 'Who or what is your brand's worst enemy?' and 'Which brands – in or out of sector – are you most jealous of?'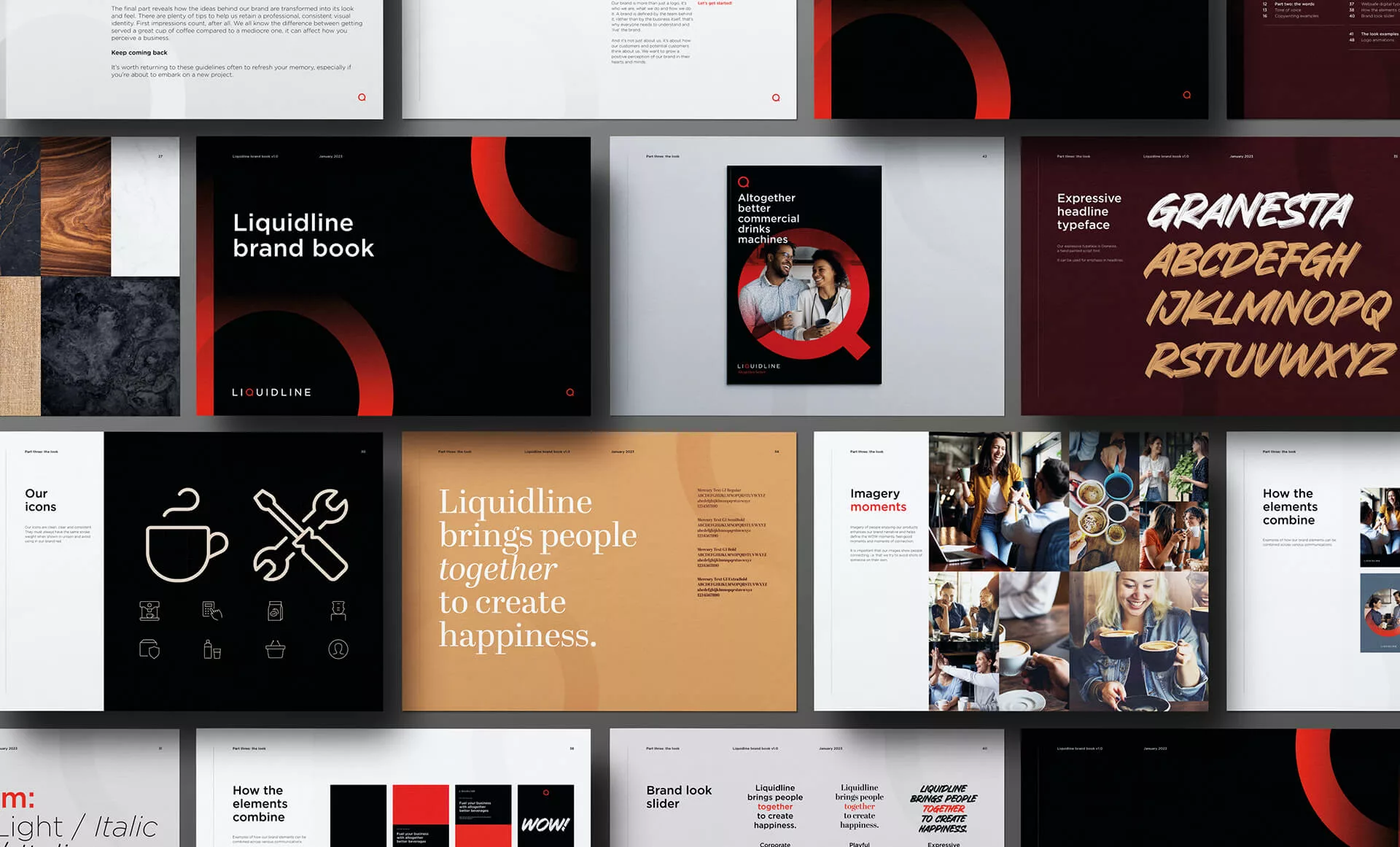 Fudging the numbers
The results of the day helped us to identify questions we wanted to ask Liquidline's customers: findings from the workshop that we wanted to test and gaps in our understanding of what customers actually want. We wrote a survey which was sent out to Liquidline's customers with an incentive of 'free fudge' for completing it. Fudge, it seems, is much desired as we amassed over 2,000 responses in little more than a day!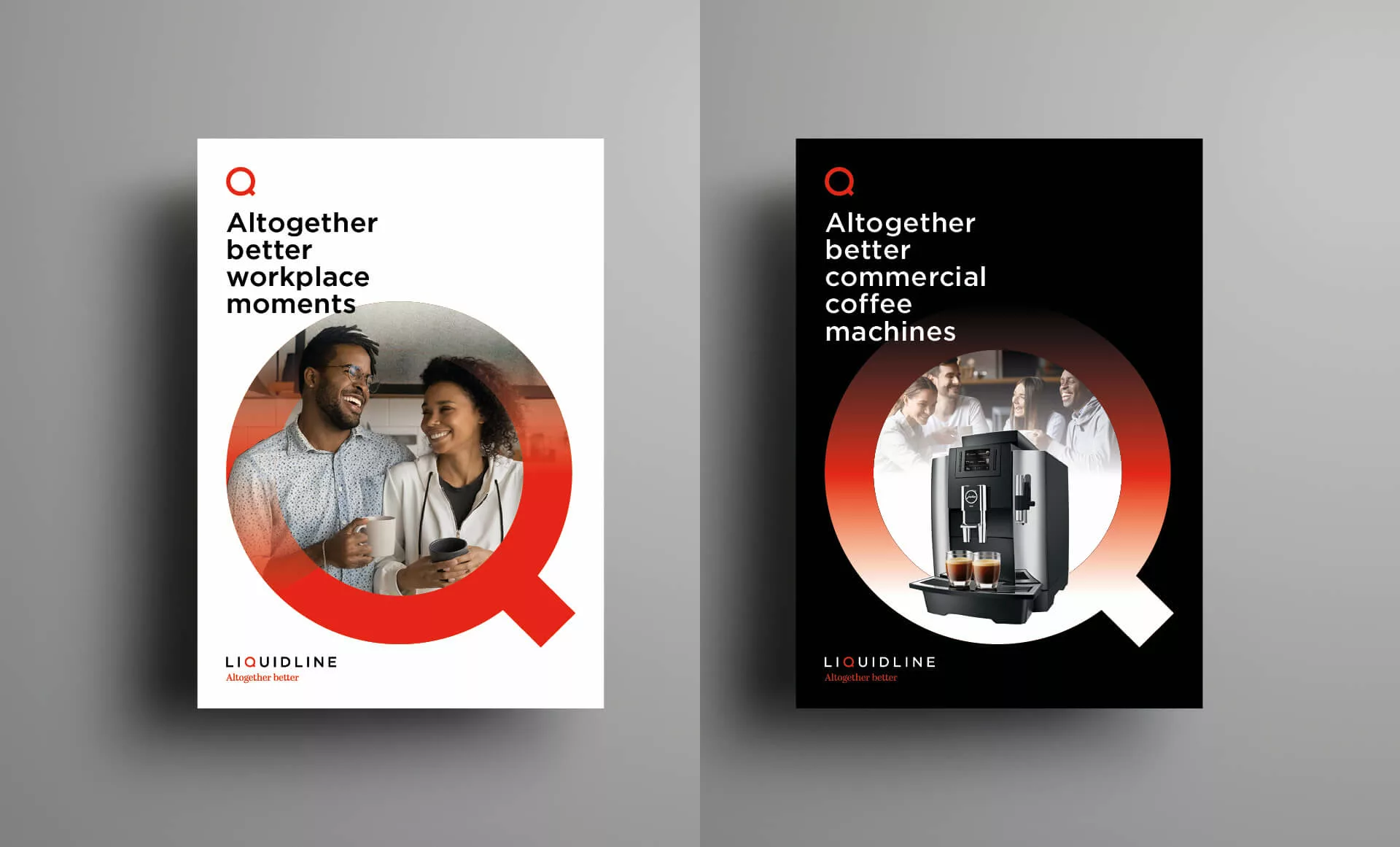 Filtering through the results
Starting with the client's 'why' from the Golden Circle – Liquidline wants to make the workplace a better place to be – we used the data to explore what that actually means to customers. The survey told us that 78% of customers were mostly working from the office, so a 'back to the office' message wasn't relevant. Instead, the results showed that improving staff wellbeing was a priority for customers (90%) and that 72% agreed that improving coffee and refreshment facilities was a major factor in improving the workplace. 65% agreed that Liquidline directly helped them create a better workplace and 69% agreed that Liquidline helped them meet their goals for wellbeing in the workplace.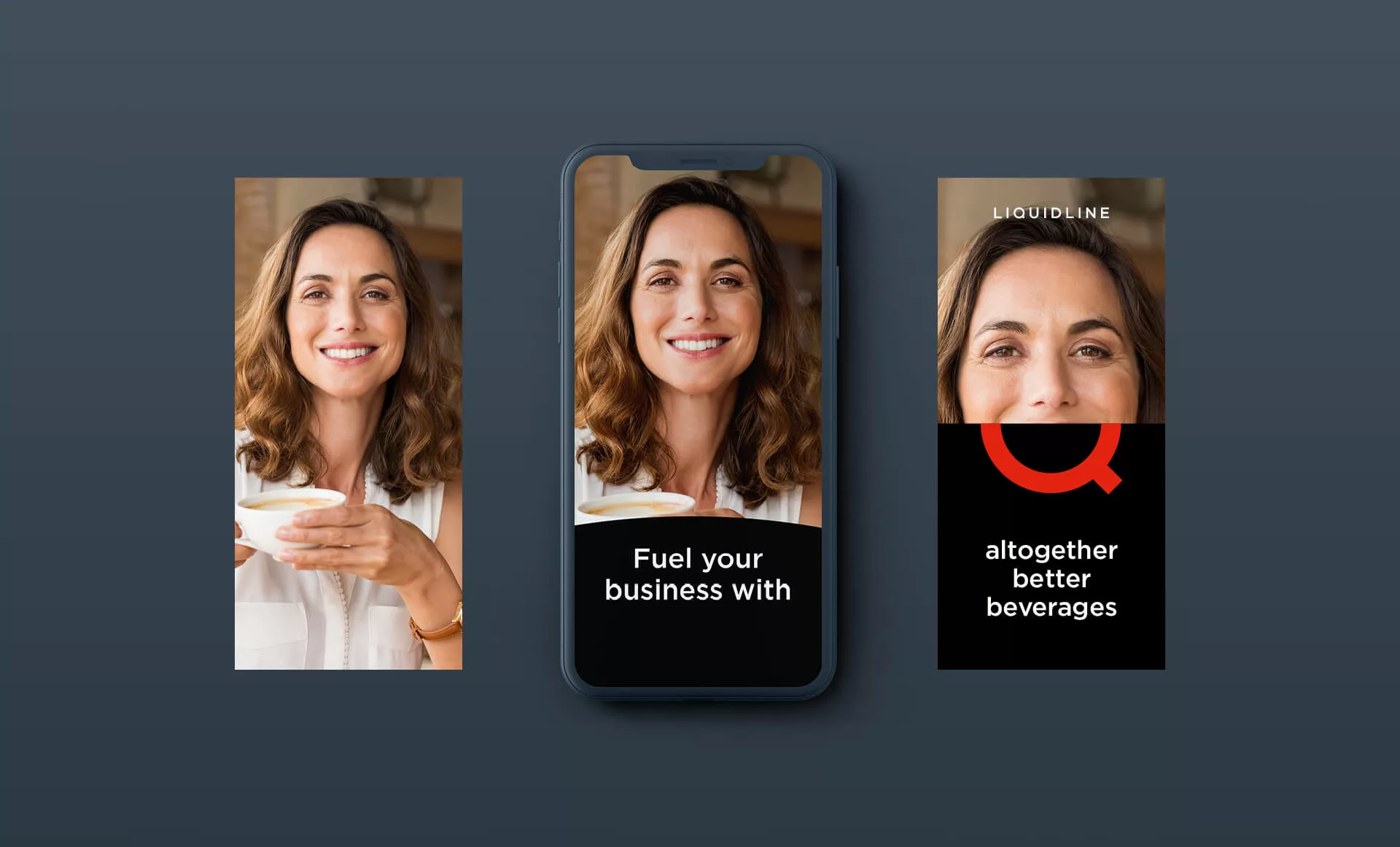 Brewing up a new brand strategy
Now armed with a bucketful of facts, stats and quotes, the brand planning began, including further desk research for cultural insight and mapping competitor positions. The discoveries were arranged into the 4Cs (Company; Consumer; Category; Culture) to help us organise the data and encourage a narrative to emerge. The outputs of that were summarised using Mark Pollard's 'Four Points':
Problem: The human problem behind the business problem.
Most companies look to individual benefits to motivate and engage employees when they should rather be looking at ways to help people connect.
Insight: An unspoken human truth that sheds new light on the problem.
For employees, happiness at work comes down to positive relationships (more than even salary). The Power of Healthy Relationships at Work: Harvard Business Review.
Advantage: What makes your thing unique and motivating in people's minds?
Good coffee shows you care and creates feel-good moments in the day that bring people together.
Strategy: A new way of seeing your thing based on all that.
Show how Liquidline fosters a 'togetherness' that creates happiness at work.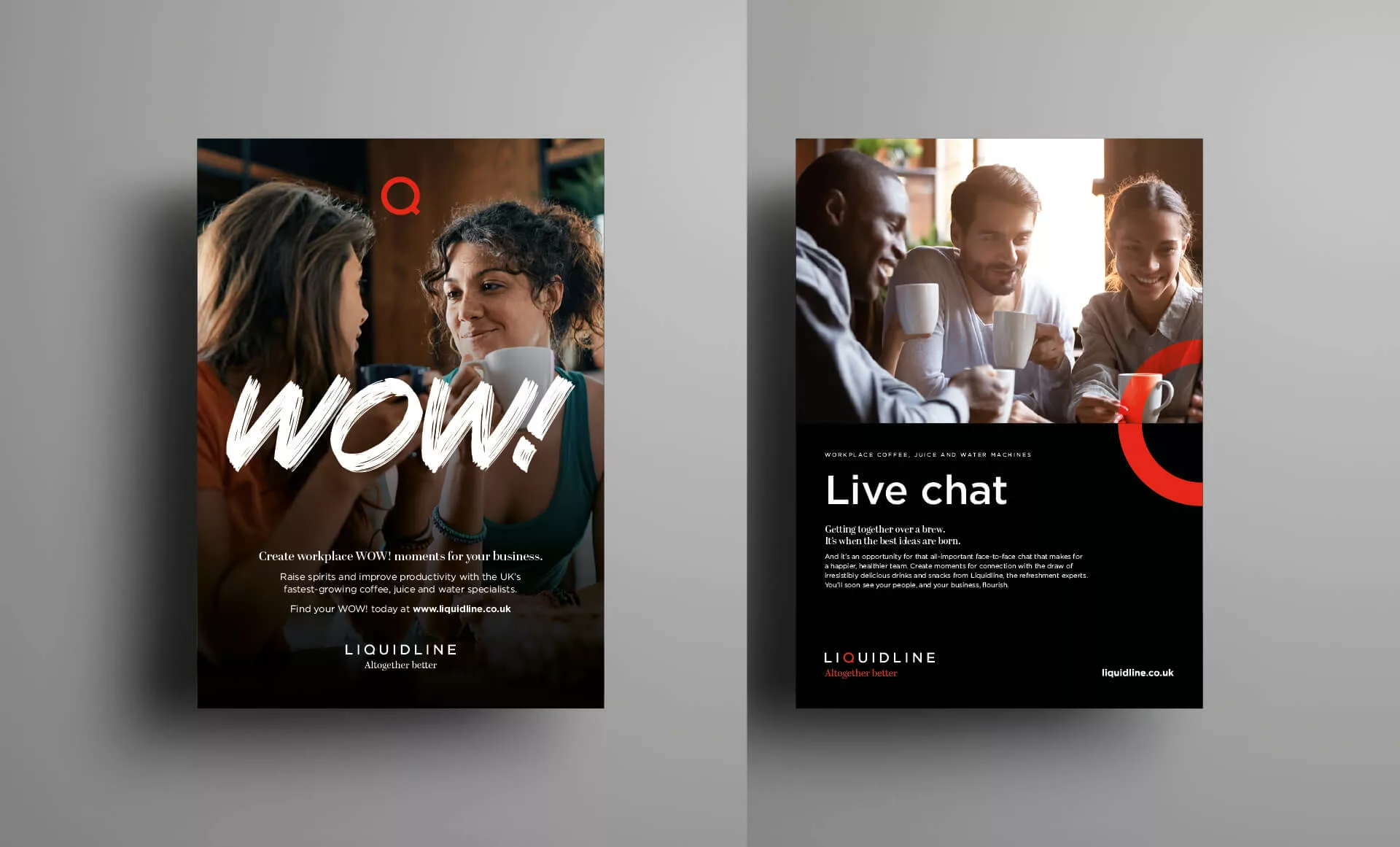 This strategy then allowed us to create the first part of the brand book, including the brand idea and brand pyramid; a longer brand narrative; brand positioning (for different audiences); a message structure; a brand personality; tone of voice and copy examples.
In the creative studio, we updated the logo, added a strapline, included new typefaces, modernised the colour palette, updated the imagery guidelines to show people being together, created new animated logo options, and finished it off with plenty of examples of how to bring all the elements together.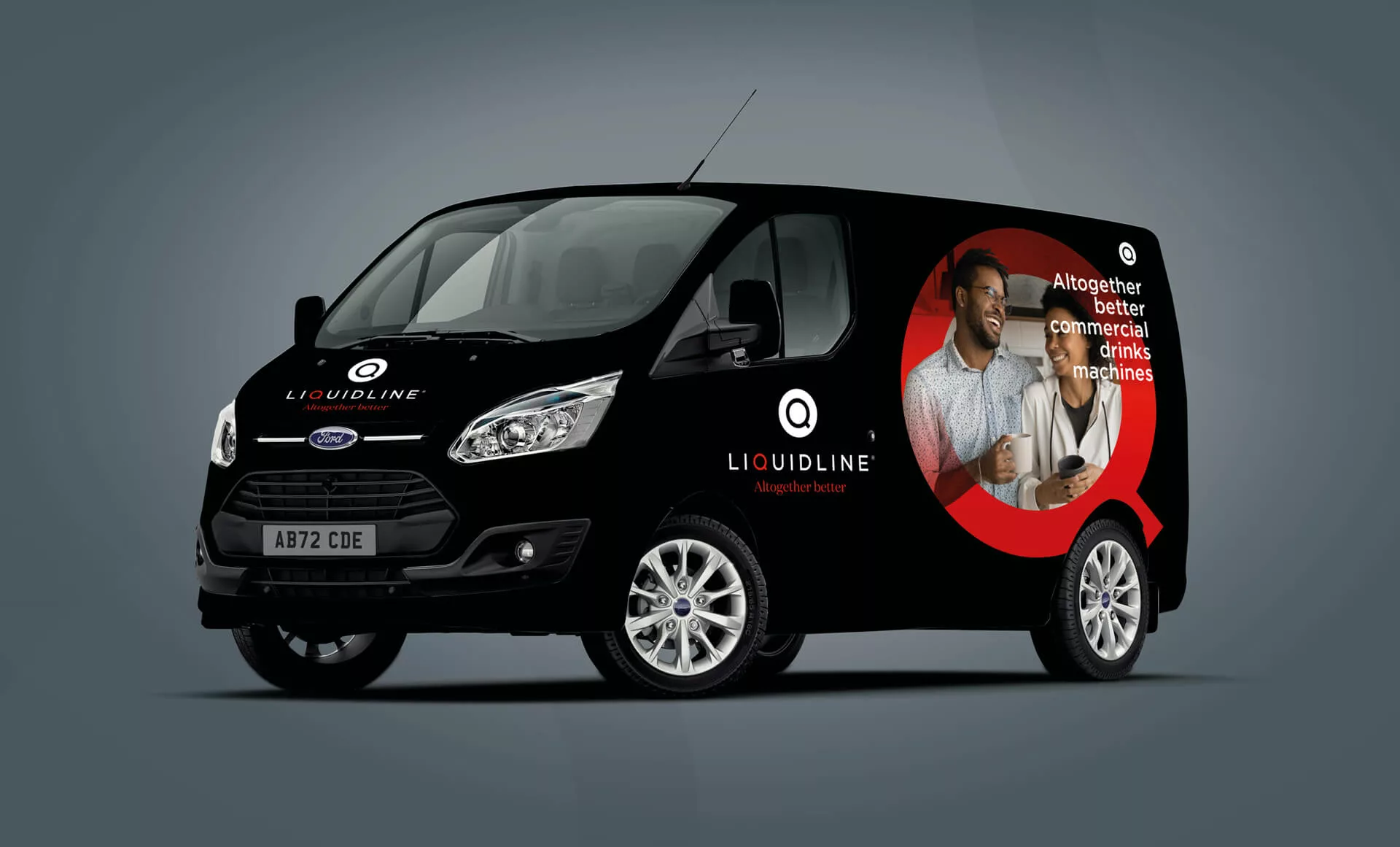 That's a frap
"There's a very happy marketing team over here!", said Lois, Liquidline's Marketing Manager upon receiving the book.
A much-needed brand refresh has given new life to Liquidline, helping to cement and reflect its status as a leading provider of commercial coffee, water, juice and vending solutions. With a new look and feel, and a refocused strategy to go alongside, the team at Liquidline can drive the brand forward, continuing its upward trajectory in the UK market.