Lyreco Goodness
Answering this burning question for Lyreco's target audiences through a new website and content strategy has generated more than 400 leads in the five months since launch.
Lyreco provides workplace supplies and solutions, from pens and paper to PPE, across the globe — sustainably. In the UK and Ireland, it services large corporate customers and SMBs alike, with its web shop being the main interface for existing customers. Prospects were directed to wearelyreco.com, which was in need of a refresh as it no longer reflected the full range of Lyreco's activities and failed to communicate its key selling point: Lyreco Goodness.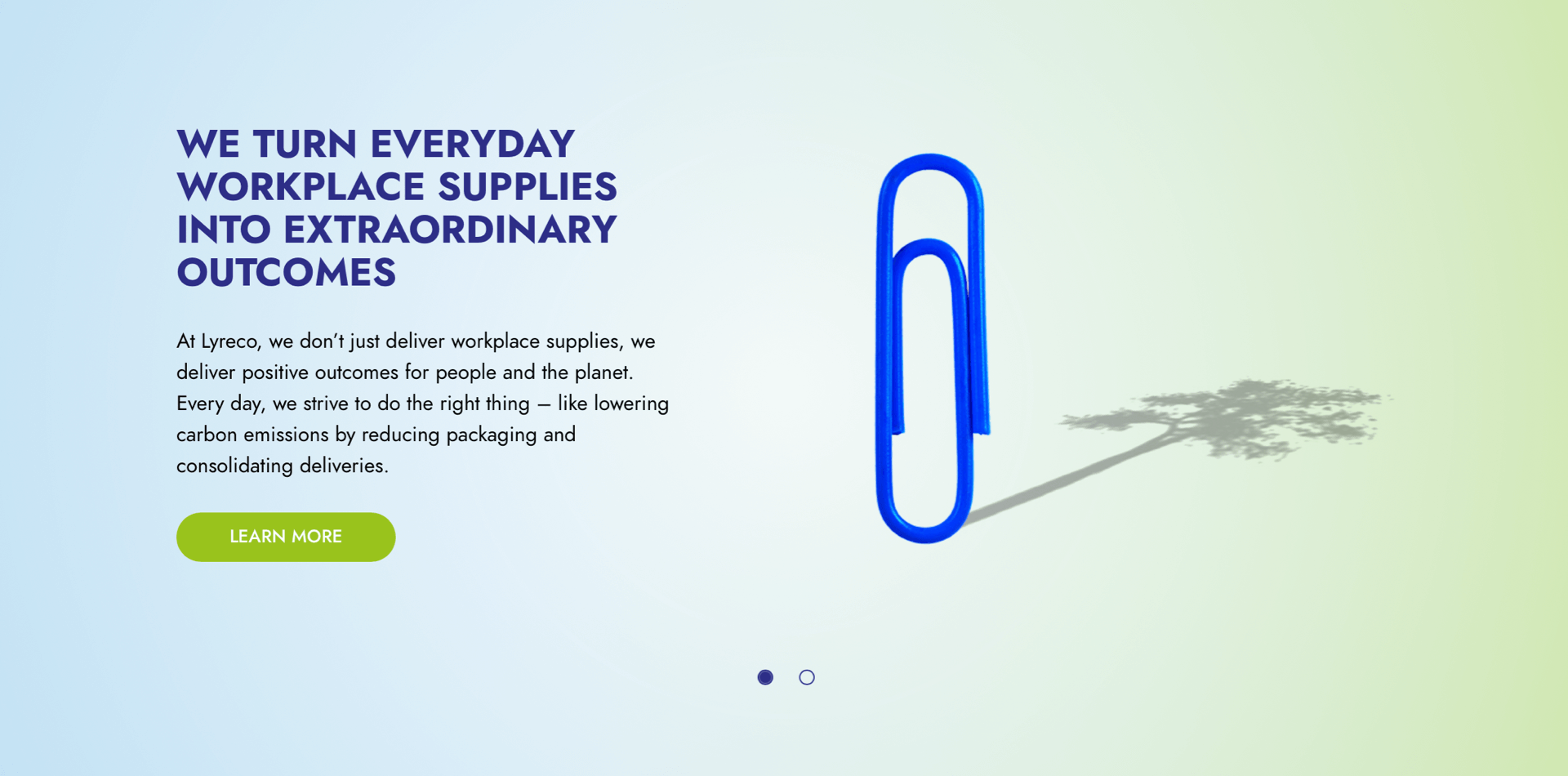 What is Lyreco Goodness?
Lyreco's MD, Michael Milward, explains: "As a large business, we have a global impact far beyond the products and services that we sell. How we behave, treat others, learn, develop and innovate has far-reaching impacts on society and our planet. Lyreco Goodness describes our approach to everything — from products and suppliers to people and the planet. It means always doing the right thing."
Most importantly, there's no greenwashing in sight. It was clear to us that Lyreco lives and breathes sustainability. So it was time to spread the word!
The brief
OneAgency's brief was to develop a new website that would communicate this important, competitive difference and raise 'fame and favourability' for Lyreco with prospective customers. Ultimately, the strategy has to be entirely focused on lead generation.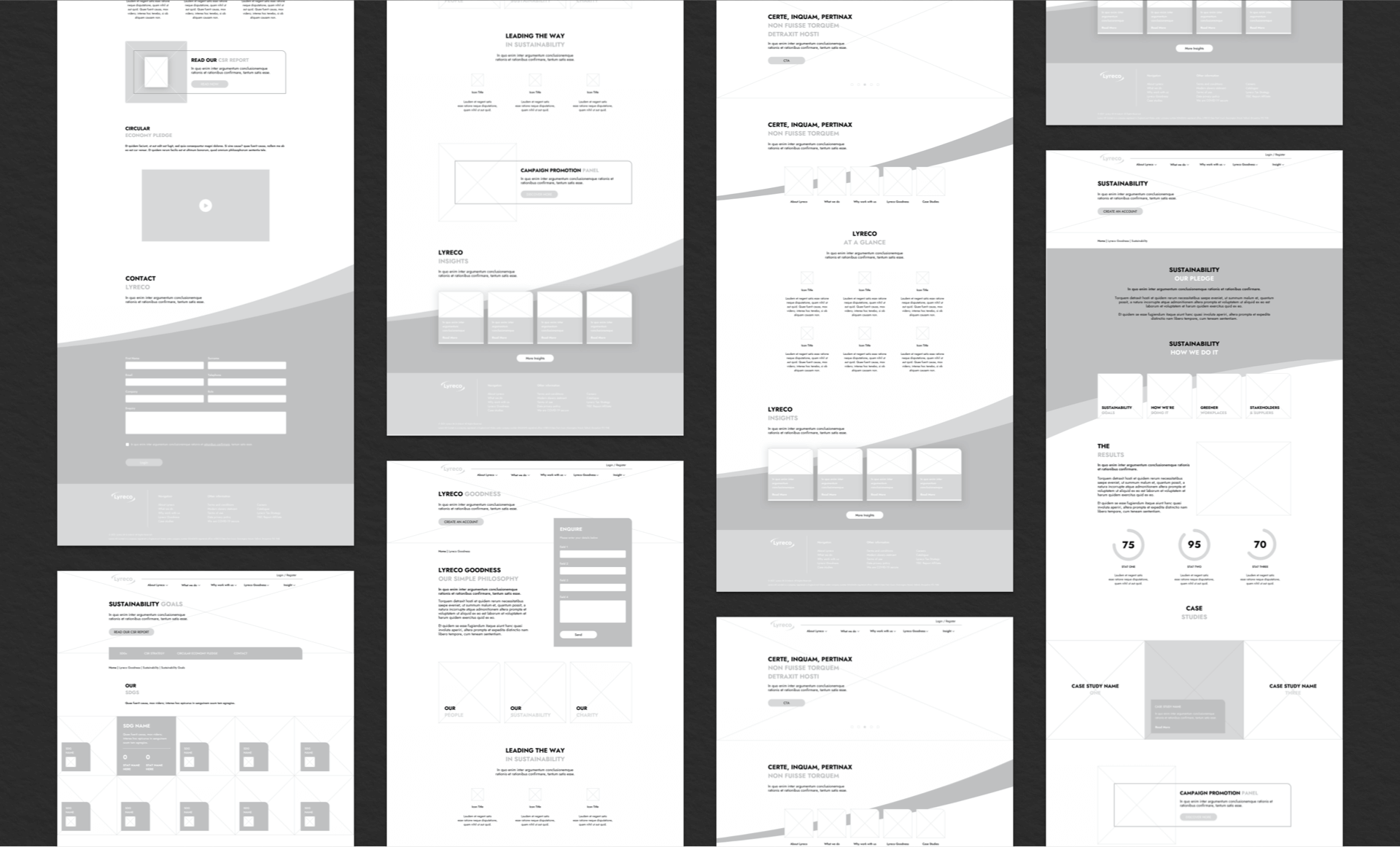 Our approach
The first task was to review the competitor landscape covering both social and digital activity along with a review of websites in the space. Desktop research first categorised sites into ecommerce-led, lead gen-led, and corporate sites and we then ranked them based on a mix of 10 dimensions (including ease of customer journey, Google rank, backlinks, CTA strength, and tone of voice). This provided an important reference as to 'what good looks like' and enabled us to analyse the breadth and depth of the content.
An important takeaway was that, in what might be termed the 'Goodness' area of CSR and sustainability, competitors weren't better at 'doing it' but were better at 'talking about it'. This led directly to the next phase — creating a content strategy that organised multiple topics into five key pillars and established a tone of voice.
This, in turn, served as a touchstone for writing content. Having agreed on a sitemap and technology solution, we worked with Lyreco's marketing team to define a list of contacts to interview and harvest content for the site. Simultaneously, we worked on a set of webpage designs, defining a set of WP Gutenberg blocks that would be used to build all the pages.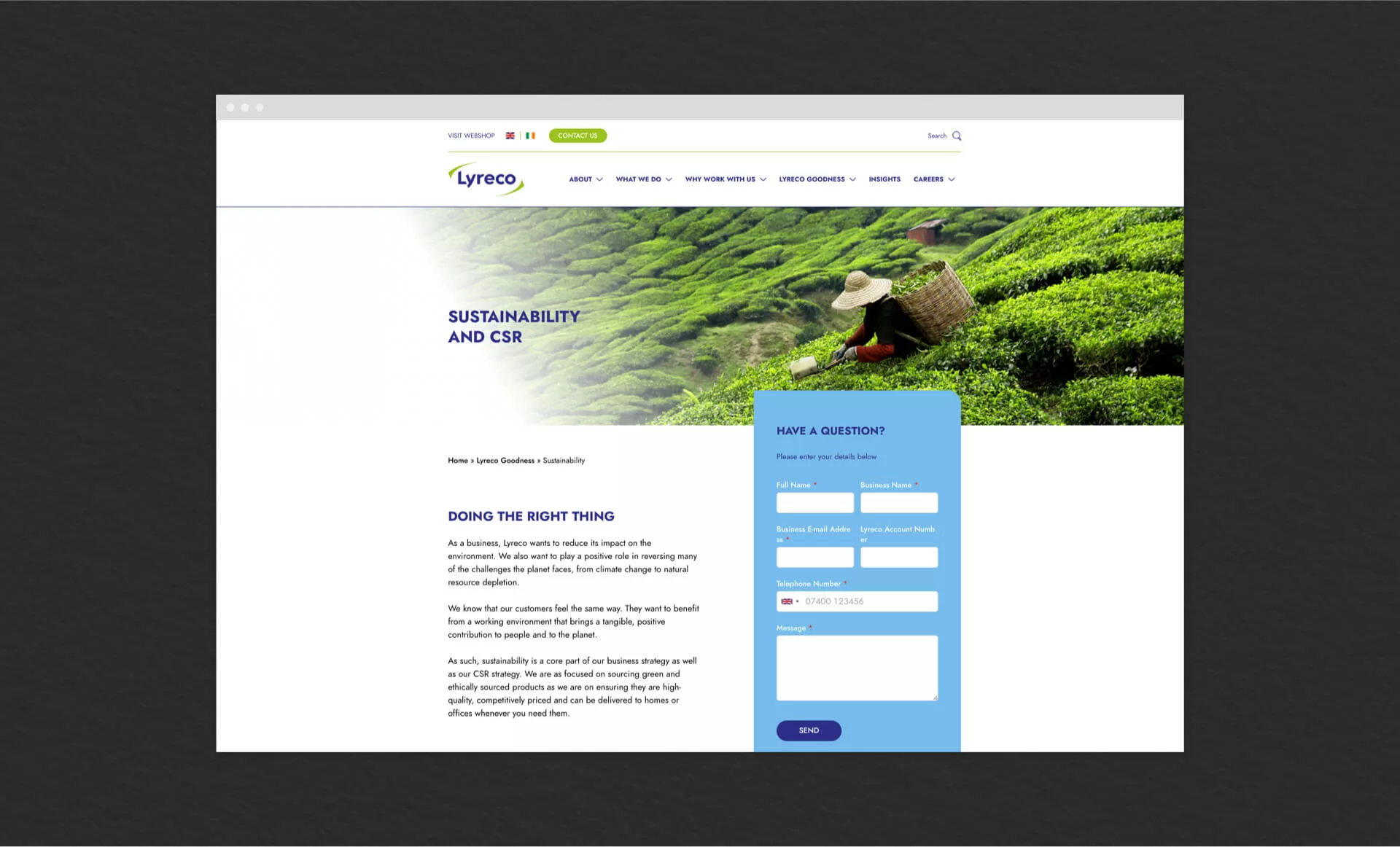 Our approach
Once this key development stage was complete, we brought the two streams of work together by creating the page structure of the site map, populating the pages with the relevant blocks, adding placeholder images and importing client-approved copy.
A two-day photo and video shoot at Lyreco's head office in Telford provided us with a large lightbox of images and film clips to use on the pages – with the use of real people in real locations (rather than stock library shots) being an important way to communicate Lyreco's openness as a business. Additionally, we redrew every icon on the site to a new, consistent format.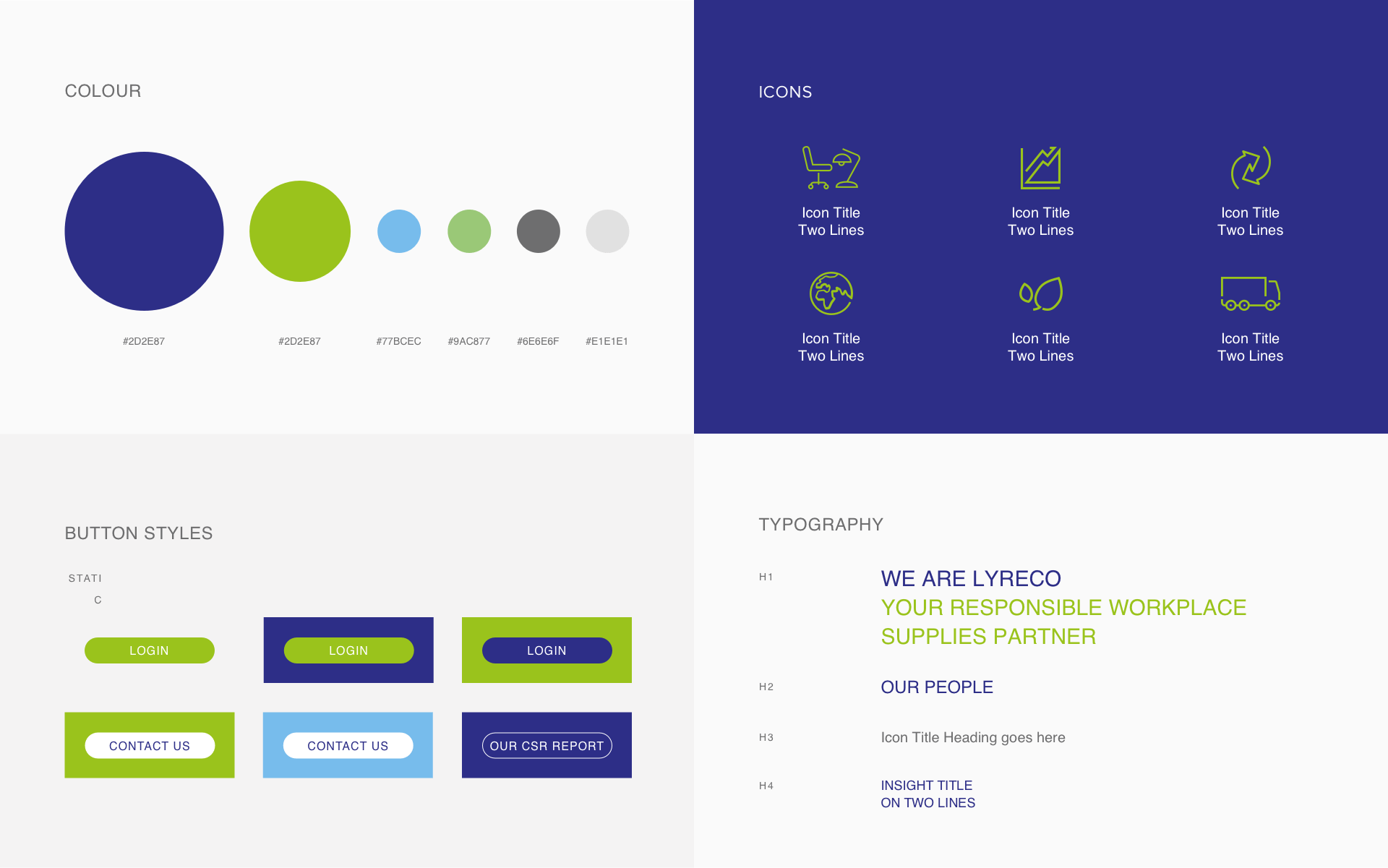 Results so far
why.lyreco.com launched in May 2022. It's the beginning of the journey in raising awareness of, and preference for, Lyreco by telling the Lyreco Goodness story. In the five months to end of September 2022, we've seen:
Website visits increased by 50 percent per month
Approximately 400 new account leads generated
Over 2.5k occurrences of brochure downloaded.
The team at Lyreco is delighted with the new platform, both in terms of the ease of managing and tracking leads and usability, with the ability to create create their own campaigns with the handy drag and drop functionality.